The summer solstice is the longest day of the year. As the summer solstice draws closer, people eagerly anticipate the longer days and the arrival of warmer weather. This is a special time to celebrate the beauty of nature, pay homage to the sun's power, and bask in the abundance and warmth of the season.
Summer Solstice Spiritual Practices
The summer solstice holds great significance in various spiritual practices across the globe. Celtic culture celebrated it as the "feast of" to pay tribute to the sun and the earth's abundance. Modern Paganism celebrates the summer solstice as Litha, a time of growth, renewal, and prosperity. Outdoor rituals are performed by Wiccans and other Pagans to honour the sun and the earth, often incorporating elements of fire, water, and earth into their ceremonies.
Various Native American communities celebrate the summer solstice as a time for purification and revitalization. For instance, the Hopi people from Arizona perform the Niman Kachina ceremony, where they dance and pray to the spirits for a plentiful harvest. Similarly, the Inca people in Peru celebrate Inti Raymi, a festival that pays tribute to the sun god Inti and marks the beginning of a new year.
The summer solstice holds great significance in several Eastern spiritual traditions. For instance, Hinduism denotes the start of Dakshinayana, a phase where the sun moves southwards and days become shorter. Hindus observe this event by presenting offerings of flowers, fruits, and incense to Surya, the sun god. Similarly, in Japan, the summer solstice is referred to as Tōji, a time to purify the body and mind by taking hot baths and consuming special foods.
Engaging in rituals can help us stay connected to nature and ourselves. It allows us to add depth and significance to our lives.
Here are seven Summer Solstice ideas to get you started: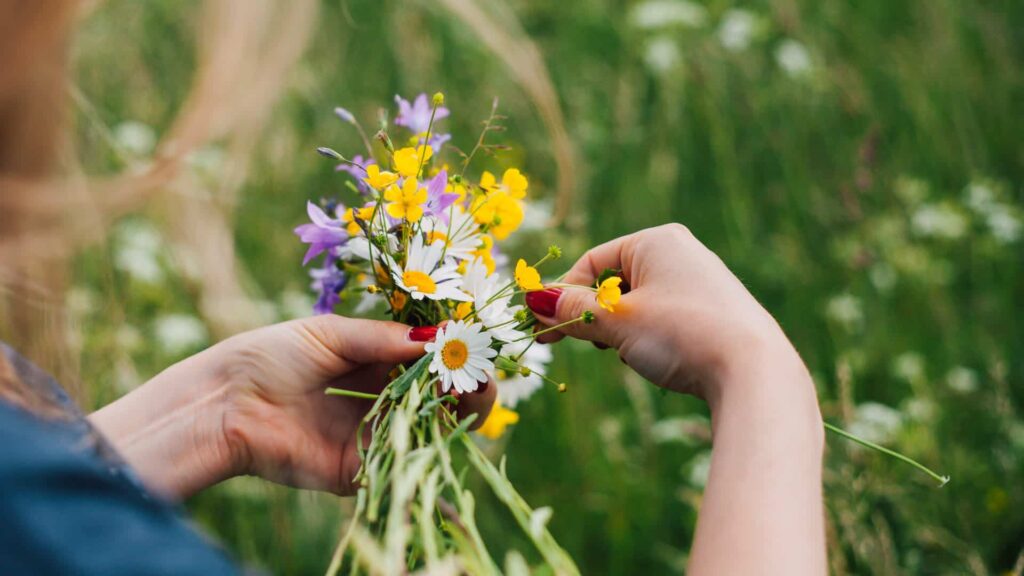 1. Create a Sacred Space
To create a sacred space, you can construct a circle or medicine wheel using natural objects such as stones or flowers. This space can be used for healing rituals, meditation, and reflection on the previous year.
2. Create A Crystal Grid
To create a crystal grid, arrange your preferred crystals in a pattern that feels right to you. You can opt for a specific design, such as flowers or the sun, or place them in a way that resonates with you. While setting up your grid, focus on your summer season intentions. What do you want to achieve or release? Place your crystals intentionally and leave them for some days to absorb the energy. However, note that clear quartz may act as a magnifying glass for the sun and cause fires.
3 Crystal Jewellery
This summer, you can embody positive energy by wearing crystals. Select a crystal that aligns with your desired energy, such as Citrine or Tiger Eye for confidence and empowerment or Amber or Sunstone to reflect the sun's power. Wear your crystal as a ring, necklace, bracelet, or earrings to be reminded of your intentions throughout the day.
4. Meditation
Take a moment to find a serene outdoor setting where you can focus on your breath and observe your thoughts without judgment. As you meditate, envision the sun's warmth and light filling you with positive energy. Additionally, guided meditations centred around renewal, growth, and abundance can be especially beneficial during the summer solstice. Remember, meditation is a powerful tool for both inner connection and connection with the world around us.
5. Fire Ritual
Create a small fire or bonfire to request blessings and guidance for the upcoming year. Offer prayers and offerings to the fire. You can also use the fire to let go of outdated habits or beliefs that no longer benefit you.
6. Purification & Renewal
It's a good idea to clean and purify your surroundings and your energy. You can use various methods like burning herbs, chanting, singing, drumming, and dancing to celebrate the lively energy of the Summer Solstice and refresh the energy of your environment and yourself.
7. Connect with Nature
On the summer solstice, why not take a refreshing walk and immerse yourself in the beauty of nature? Take in the fresh air and sunlight as you journey through the trails. It's a beautiful way to enjoy the great outdoors.
No matter your spiritual tradition, the summer solstice is a time to honour the sun and the cycles of nature and celebrate the earth's abundance and growth. So, take some time to connect with the natural world and reflect on the beauty and wonder of the summer season.
Summer Solstice Special Offer!
I am delighted to inform you of a special deal available for one day only. This Wednesday, June 21st, 2023, you can enjoy a fantastic 15% discount on all crystal jewellery products. Whether you are searching for a piece to help align with your summer solstice intentions or perhaps looking for a thoughtful gift for a loved one, I have a wide range of options available to suit your needs. Just use the code SUMSOL23.
I wish you a summer solstice filled with warmth, joy, and abundance.