Do you suffer from travel sickness?
This is just a short blog for those of you who suffer with Travel Sickness, or if you know some who does, feel free to pass it on. And even if you don't there's a useful tip to help you create more ideal states of mind and emotion.
Four years ago, my husband and I went to collect our second Manchester Terrier, Gwen. What we weren't expecting was the endless flow of vomit on a two-hour journey back home that involved numerous clean up stops.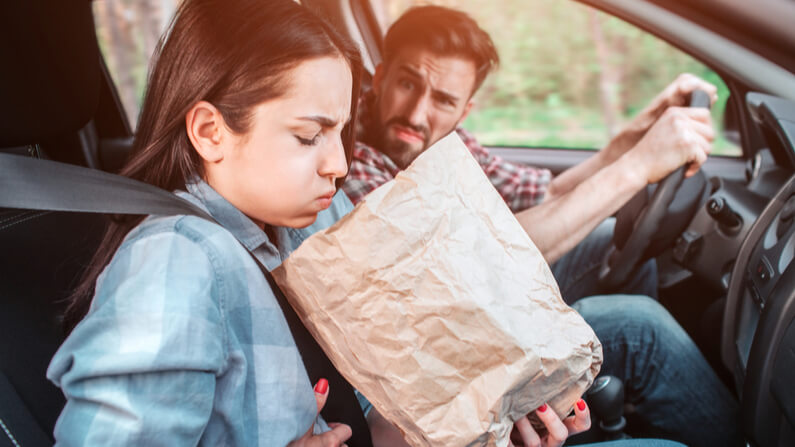 Once we arrived home all seemed well enough, until I tried to take her in the car again. Even five-minute car rides would result in her being sick and who knew a small puppy could throw up that much. Then one day we started to take her to puppy classes, which of course involved a short car journey.
On arrival at our first class, after cleaning up the mess, I mentioned the problem to our trainer who suggested Ginger Nut biscuits. The trainer suggested that ginger seemed to settle a dogs stomach when travelling and that the biscuit (a small amount) could be used as positive reinforcement.
The Light Bulb!
Anchoring is a part of dog training; it is also something I offer my clients as a support for the work we do in session. Something they can carry out for themselves between sessions. Clearly there are some differences between working with humans and dogs, but not as many as you might like to think. Firstly, human clients can go away and do homework that is set for them, dogs not so much. With Human clients I offer a range of anchor types, one being to squeeze or apply pressure to a knuckle, again dogs struggle with that.
But! My favourite type of anchor is a smell anchor and of course smell and taste are linked. So, when a colleague posed a question about whether our method of therapy could help with Travel Sickness my response was 'most definitely.'
Smell and taste anchors happen naturally all the time. You will already have some in or out of your awareness. Sometimes they can even be part of a problem as well as having the potential to solve a problem or create a solution.
The smell of coffee first thing in the morning brings holidays to mind and uplifts me, no not the caffeine, but because it's the first thing I usually smell in the morning on holiday. Does popcorn put being in a cinema in mind for you? Does the smell of a certain cigar or beverage remind you of your granddad or another family relative? An anchor is just that an external stimulus that triggers an internal response such as a memory, feeling or state of mind.
In Gwen's case ginger nuts were a positive reward, that became linked with being in a car. Now Gwen travels for hours with or without ginger nuts and doesn't throw up.
So how can you apply this idea?
Firstly, ginger works with humans as well as dogs. But as a human, you can take this further. Whether you use Gingernuts or some other ginger-based product is up to you. But as well as having the ginger while travelling, you can also link the ginger to a happier more relaxed and comfortable state of being.
It's really simple.
Decide what state or feeling you'd like to have when you travel. I imagine worrying about being or feeling sick isn't one of them. Now recall a time when you had the positive feeling or state that you'd prefer to have. It doesn't have to be related to travel; it can be any time that you felt that state quite strongly. A specific moment or memory works best.
Next have your source of ginger available to you and make sure you are not going to be disturbed by your phone, tv, doorbell etc. Close your eyes and take yourself back to the positive moment. Relive it as thoroughly as you can. Explore all your senses in that moment, what you see, hear, touch, feel, taste, how your body feels and moves, your mind thinks, how you are interacting with people or your environment. Pay attention to the things that reinforce why this moment reflects the ideal state or feeling you'd like to have available to you.
Take your time over this, we want you to get that state or feeling as strong as you can and then take a smell or taste of the ginger product. Repeat this a few times, three is ideal. If you could scale the feeling or state you want to have between 1 and 10 where 10 is the strongest, we'd want you to be at an 8 or higher when you smell or taste your ginger product.
Hey presto, you have anchored the ginger product to your preferred state or feeling. Repeat this process often to maintain your anchor so when you travel and take your ginger, it triggers the response you've programmed it to do.
If there are significant psychological elements to your travel sickness, it may be that you'll need some therapy sessions in addition to using this anchoring technique. However, for many of you this could make a great difference.
Anchoring is a versatile technique you could use for a wide range of things: Feeling Confident, feeling relaxed, feeling focused and the list goes on.
In a Ginger Nutshell:
Pick the state or feeling you'd like to have more of
Choose an external stimulus – Smell is most effective
Recall a memory that generates the feeling or state you picked
Smell your chosen smell when the feeling or state is at its strongest.
Let your imagination run wild and feel free to share any of your more unusual ideas in the comments below.